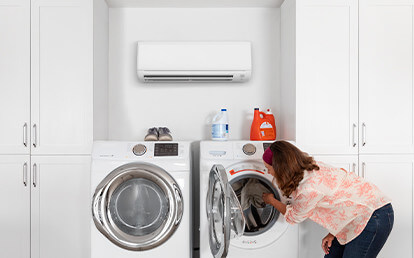 What to Expect
Heat pumps will help you find the perfect balance of comfort and savings all year round.
Switching to a clean, efficient heat pump system can bring immediate benefits to your home. Learn what to expect based on the type of system you install.
Whole-Home vs. Partial-Home
Whole-Home
Whole-home heat pumps will do all of the heating and cooling in your home. For replacement situations, your existing heating and cooling systems are no longer required. With a whole-home system, you can expect immediate savings if you currently heat with oil, propane, or electric baseboards. A whole-home system will likely eliminate your fuel bill, but because heat pumps require electricity to run, you may have a higher electric bill — the increase in this bill will be offset by the elimination of your fuel bills.
Partial-Home or Single Rooms
Partial-home heat pumps are often used to supplement an existing heating system. They are often used to better control a room that may be too hot or too cold, like a second floor or addition. With a partial-home heat pump, you will still have a fuel bill, but can expect to pay less each month. Similar to a whole-home heat pump, you will have slightly higher electric bills — but the increase in this bill will be offset from savings on your fuel bills.